Stamped and Formed Contacts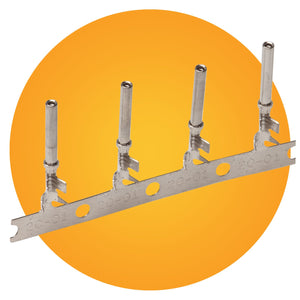 The Deutsch Common Contact System is used to simplify and standardize the industry by allowing Deutsch Contacts to be used interchangeable across many of the Deutsch Industrial connectors. This helps provide industries consistency and reliability within the wire harness industry by reducing the number of terminals needed. 
Deutsch Stamped and Formed Contacts are designed for industries where high volume does not need to increase termination costs. These contacts are manufactured using precision stamping procedures on a flat strip stock. Deutsch Stamped and Formed contacts are protected from the worst conditions using a nickel, tin, or gold plating process. 
Stamped and Formed Contacts